Walter Gerhards KG
Fabrik für handgearbeitete Kunstkeramik, Ransbach-Baumbach
1957 - 1984
Sämtliche Bilder auf dieser Internetseite mit Objekten aus meiner Sammlung unterliegen dem Urheberrecht. Die Rechte liegen bei mir. Die Bilder dürfen ohne meine Genehmigung nicht verwendet, verändert, verteilt oder abgedruckt werden.
All pictures from my collection © by Ralf J. Schumann.
No use without permission.

Ich würde mich über eine Spende zur Erweiterung und zum Erhalt dieser Internetseite sehr freuen. Vielen Dank im voraus!

I would be glad if you'd like to send a donation to support the maintenance and expansion of this website. Thank you in advance!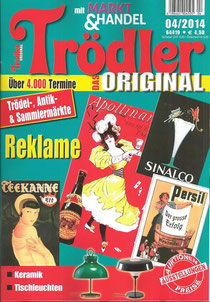 Im April 2014 ist im Sammlermagazin "Trödler" ein 8-Seitiger Artikel über die Geschichte der Walter Gerhards KG erschienen. Der Artikel enthält viele informationen über den Designer Walter Gerhards und einen Überblick über die Firmengeschichte sowie viele Formen und Dekore. Aufgrund der Seltenheit der frühen Modelle liegt der Schwerpunkt bei den 60er und 70er Jahren. Für Sammler der 50er Jahre ist die Firmengeschichte dennoch interessant, weil die Walter Gerhards KG ihre Wurzeln in diesem Jahrzehnt hat.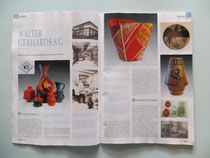 English:  The April 2014 issue of the well known German collector's magazine "Trödler" (the name is a friendly describtion for a junk or antiques dealer) contains an 8-page article about the Walter Gerhards KG, telling the whole story of the company and shows lots of vases, cuttings from original contemporary advertisements and even 2 pictures of Walter Gerhards himself. A lot of informations were given by his widow, Mrs. Gerhards, which means that a first hand source was used. Although the text is in German only, I hope that non-German readers will enjoy the pictures and the understandable informations as decor names and year dates as well. Maybe there will be an english translation later with additional informations about form numbers. This is the first story about the company since a short 20 year celebration article in the trade magazine "Die Schaulade" in 1977. I hope that it helps to give Walter Gerhards the appreciation he deserves as still so many of his designs are mentioned wrongly as "Söndgen" these days and the false myth of a company named "Kera Keramik" is still around, too.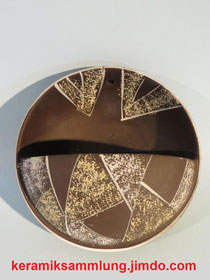 Walter Gerhards KG

Pflanzschale zum Aufhängen /
hanging plant pot
Form 2/17 (17 cm)

Dekorname unbekannt /
decor  name unknown
Design: Walter Gerhards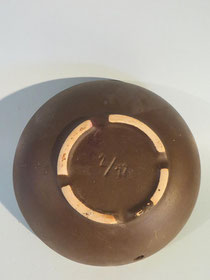 Walter Gerhards KG

Pflanzschale zum Aufhängen /
hanging plant pot
Form 2/17 (17 cm)

Dekorname unbekannt /
decor  name unknown
Design: Walter Gerhards
                                                          Bodenmarkierung / base marking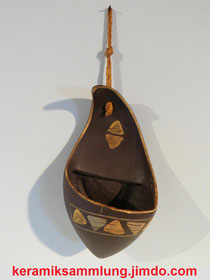 Walter Gerhards KG

Pflanzschale zum Aufhängen /
hanging plant pot
Form 5/17 (24 cm)

(die Zahl "17" ist bei dieser 24 cm langen Wandvase nicht geklärt /

the no. "17" is not clear yet because the hanging vase is 24 cm tall)

Dekorname unbekannt /
decor  name unknown
Design: Walter Gerhards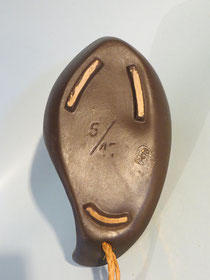 Walter Gerhards KG

Pflanzschale zum Aufhängen /
hanging plant pot
Form 5/17 (24 cm)
Dekorname unbekannt /
decor  name unknown
Design: Walter Gerhards
Bodenmarkierung / base marking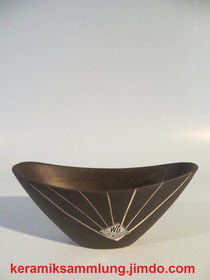 Walter Gerhards KG

Schale / bowl

Form 13 (13,5 cm)

Dekorname unbekannt /
decor  name unknown
Design: Walter Gerhards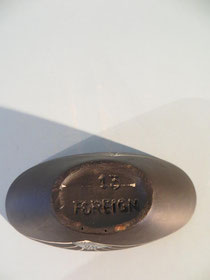 Walter Gerhards KG

Schale / bowl

Form 13 (13,5 cm)

Dekorname unbekannt /
decor  name unknown
Design: Walter Gerhards
Bodenmarkierung / base marking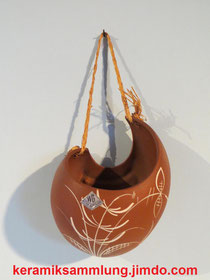 Walter Gerhards KG

Pflanzschale zum Aufhängen /
hanging plant pot
Form 15 (15 cm)

Dekorname unbekannt /
decor  name unknown
Design: Walter Gerhards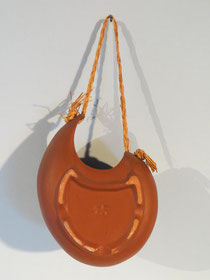 Walter Gerhards KG

Pflanzschale zum Aufhängen /
hanging plant pot
Form 15 (15 cm)

Dekorname unbekannt /
decor  name unknown
Design: Walter Gerhards
Bodenmarkierung / base marking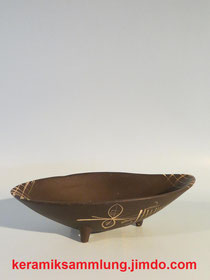 Walter Gerhards KG

Schale / bowl

Form 16/25 (25 cm)

Dekorname unbekannt /
decor  name unknown
Design: Walter Gerhards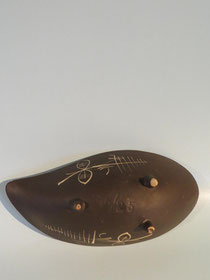 Walter Gerhards KG

Schale / bowl

Form 16/25 (25 cm)

Dekorname unbekannt /
decor  name unknown
Design: Walter Gerhards
Bodenmarkierung / base marking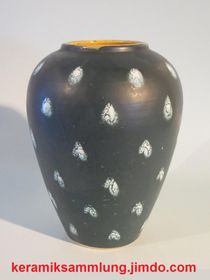 Walter Gerhards KG

Vase
Form 50-20

Dekorname unbekannt /
decor  name unknown
Design: Walter Gerhards, ca. 1959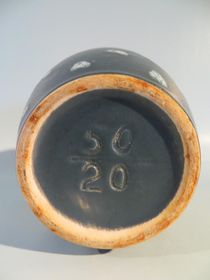 Walter Gerhards KG

Vase
Form 50-20

Dekorname unbekannt /
decor  name unknown
Design: Walter Gerhards, ca. 1959

Bodenmarkierung / base marking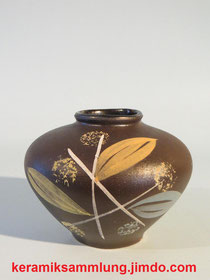 Walter Gerhards KG

Vase
Form 57 (7 cm)

Dekorname unbekannt /
decor  name unknown
Design: Walter Gerhards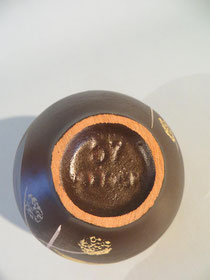 Walter Gerhards KG

Vase
Form 57 (7 cm)

Dekorname unbekannt /
decor  name unknown
Design: Walter Gerhards
Bodenmarkierung / base marking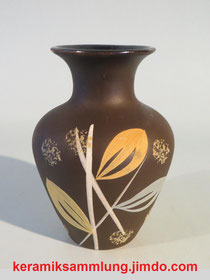 Walter Gerhards KG

Vase
Form 61-10 (10 cm)

Dekorname unbekannt /
decor  name unknown
Design: Walter Gerhards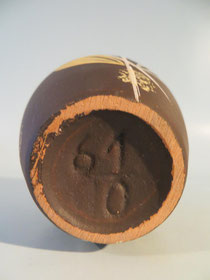 Walter Gerhards KG

Vase
Form 61-10 (10 cm)

Dekorname unbekannt /
decor  name unknown
Design: Walter Gerhards
Bodenmarkierung / base marking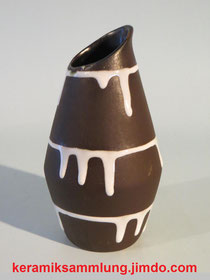 Walter Gerhards KG

Vase
Form 70-12 (12 cm)

Dekorname unbekannt /
decor  name unknown
Design: Walter Gerhards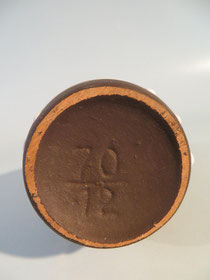 Walter Gerhards KG

Vase
Form 70-12 (12 cm)

Dekorname unbekannt /
decor  name unknown
Design: Walter Gerhards
Bodenmarkierung / base marking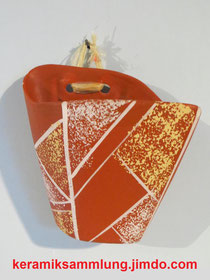 Walter Gerhards KG

Wandvase /
hanging vase

Form 205-12 (12 cm)

Dekorname unbekannt /
decor  name unknown
Design: Walter Gerhards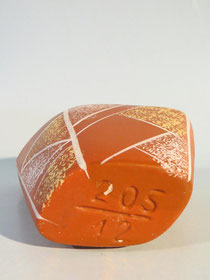 Walter Gerhards KG

Wandvase /
hanging vase

Form 205-12 (12 cm)

Dekorname unbekannt /
decor  name unknown
Design: Walter Gerhards
Bodenmarkierung / base marking
Walter Gerhards KG

Vase

Form 1011/12 (12 cm)

Dekorname unbekannt /
decor  name unknown
Design: Walter Gerhards

ca. frühe 60er Jahre /
most likely early 1960's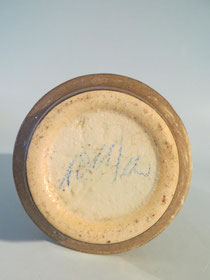 Walter Gerhards KG

Vase

Form 1011/12 (12 cm)

Dekorname unbekannt /
decor  name unknown
Design: Walter Gerhards

ca. frühe 60er Jahre /
most likely early 1960's

Bodenmarkierung / base marking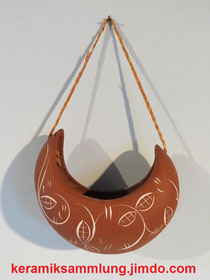 Walter Gerhards KG

Wandvase /
hanging vase (15 cm breit / wide)

Form unbekannt /
form number unknown
Dekorname unbekannt /
decor  name unknown
Design: Walter Gerhards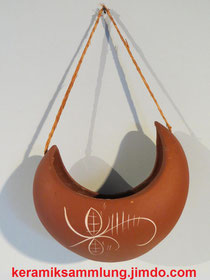 Walter Gerhards KG

Wandvase /
hanging vase (15 cm breit / wide)

Form unbekannt /
form number unknown
Dekorname unbekannt /
decor  name unknown
Design: Walter Gerhards
andere Seite / other side